---
---
Free Patterns
Babies/Kids
Adult Clothing
Other Patterns
---
Knitters Will Love...
---
Knitting Instructions: Learn How To Knit
Learning to knit is rewarding, fun and addictive! Whether you're just starting to learn to knit or want to expand your knitting skills, you'll find lots of help and tips here including step by step instructions and photos.
Learn To Knit: The Basics
Cast On
Before you knit, you need to learn to cast on. This is the process you begin with. Includes several methods of casting on. The Knit Stitch
Instructions and photos for the continental version of the knit stitch. The Purl Stitch
Instructions and photos for the continental version of the purl stitch. Bind Off
To remove your knitting safely from the needles, you bind off your stitches. Checking Your Gauge
Gauge is vital and means the difference between a project that fits and one that doesn't. Here's how to correctly knit and measure your gauge swatch. Beginner Stitch Patterns
All beginners must learn what is meant by stockinette, reverse stockinette and garter stitch once you have learned to knit and purl. Decreases
Knitting can be shaped by decreasing, or subtracting stitches. There are several ways to decrease. Instructions for methods of decreasing such as SSK, PSSO and knitting stitches together (k2tog) as well as information on how to select the proper decrease are included here. Increases
Knitting can also be shaped by increases, or adding stitches. There are several ways to increase such as yarn over (yo) and make one (m1) which you'll learn about here. Picking Up Stitches
Information on technique and picking up the proper number of stitches. Slipping/Twisting Stitches
Learn how to slip stitches and how to knit and purl through the back loops (tbl). Abbreviations
Common abbreviations used in knitting and their meanings. Glossary
Glossary of common knitting terms.
Learn To Knit: More Help And Information
Adding An Eyelash Yarn When Felting
You can add an eyelash yarn or other novelty yarns to felted bags or hats. Make sure of how it will look and hold up first. Adjusting Knitting Sweater Patterns
Don't be afraid to make simple adjustments to patterns for a better fit. Barbara Walker's Stitch Pattern Books Database
Both a text file and a spreadsheet are available for the stitch patterns in three of her books in the Treasury of Knitting Patterns series. They include the stitch name, the number of stitches and rows required for the pattern, and other information. Buttonholes
Instructions for knitting five different types of buttonholes. Caring For Hand Knits
How to have your project look as good after 10 washings as the day you finished it. Decreasing And Increasing Evenly
Many knitting patterns will ask you to evenly decrease or increase a specific number of stitches over one row. But they won't tell you how often to decrease or increase, just to do it evenly. Here's how. Design Your Own Scarf Pattern
By understanding a few basic concepts, you can design your own scarf pattern using any yarn. French Knots
French Knots are an easy embroidery technique, useful in knitting to embellish projects. I-Cord
These tubes or snakes of knitting have many uses and are easy to knit. Keep To Pattern
When you are knitting a project that uses a stitch pattern and then decrease or increase, your rows will no longer begin or end in the same way. You will need to keep to pattern and here's how you do it. Knitting Needle Conversion Chart
US, UK and metric conversion chart. Reading Knitting Patterns
Knitting patterns are written in code but it's not a secret. Here's help on understanding what the pattern is telling you. Selecting The Right Stitch Pattern
There are thousands of stitch patterns available. If you are going to use one for your next afghan, scarf, or other project, here are some things to consider. Selecting The Right Yarn
If you're not using the same yarn as a pattern or you are designing your own, there are a number of factors to reflect on when choosing the yarn you will use. Substituting Yarn
As you branch out, you'll often find you want to substitute the yarn called for in a pattern for any number of reasons. Here's how to determine what yarn you can use instead of the one called for. Take Care Of Your Hand Knit Projects
Take care of your knits properly so they last. Unravel Knitting And Use The Yarn Again
Unknit that sweater (or other project) that never gets worn and learn how to use the yarn again. Yarn Weights
International classification of different types of yarn weight, suggested gauge, and needle sizes to use.


The Complete Idiot's Guide To Knitting
& Crocheting (3rd edition)
by Barbara Breiter & Gail Diven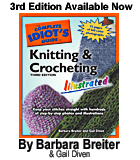 Available in book stores everywhere.
Order from Amazon now!
List Price: $16.95 Amazon Price: $11.87




The Complete Idiot's Guide To Knitting and Crocheting, has been a world wide best seller. The third edition was published September, 2006 and is available in bookstores everywhere. Information on the book and a preview of the patterns included is available at Knit A Bit.