---
---
Free Patterns
Babies/Kids
Adult Clothing
Other Patterns
---
Knitters Will Love...
---
What's New At Knitting On The Net
The latest knitting patterns and knitting information.

What's New - 2010

What's New - 2009

What's New - 2008

What's New - 2007

What's New - 2006

May 20, 2014
3 new free stitch patterns! Brioche Rib and Seed Rib are reversible and Hunter's Stitch is very pretty on the wrong side as well. Check out over 140 stitch patterns in the Knitting Stitch Patterns Library.


July 1, 2013
Felted Two Way Stripes Bag
Self striping yarn allows for easily knitting stripes in two directions.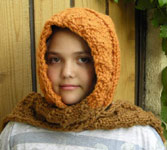 January 22, 2013
Scoodie
Easy mock cable; sized for kids and adults.


December 6, 2012
Christmas Stocking
Quick to knit in bulky weight yarn; add your own embellishements!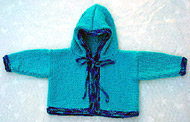 October 30, 2012
Hooded Baby Cardigan
Easy pattern in 3 sizes; a simple tie closes it at the top.


September 26, 2012
Hooded Baby Blanket
Simple and fast to knit in a very bulky yarn.
August 23, 2012
New Puzzles
Find the knitting related words in these 12 Word Search Puzzles.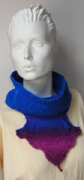 August 2, 2012
Medallion Cowl
Unique cowl highlighted by knit attached medallion.


June 19, 2012
Rocking Horse Baby Blanket
Lots of variations possible. Or just knit one repeat of the chart on almost any baby project!

April 9, 2012
Ruffle Hat
Self striping yarn combined with a ruffle yarn creates this cute hat.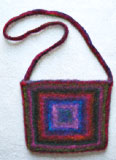 March 27, 2012
Op Art Felted Bag
The op art design is a result of self striping yarn and multiple decreases.

March 7, 2012
Easy Ruffle Cowl
Featuring a unique yarn that ruffles itself.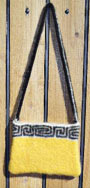 December 31, 2011
Felted Purse With Mosaic Trim
Felted bag features a mosaic pattern for trim that only uses one color per row.


December 7, 2011
Mini Sock Ornament
This is a real sock, knit on double points.




December 7, 2011
Hanukkah And Christmas Coasters
Knit and crochet versions; both super easy!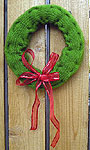 November 23, 2011
Cabled Christmas Wreath
Knit a special wreath this holiday season.


November 23, 2011
Candy Cane Hat
Sized for children and adults.


November 14, 2011
Basketweave Baby Blanket
Easy basketweave pattern with a simple lace edge.


October 11, 2011
Lace Cowl
Simple lace pattern is featured in this cowl featuring chunky yarn for fast knitting.


October 11, 2011
Beginner Scarf
Knit and purl stitches create texture in this fast beginning knitter scarf.


July 24, 2011
Felted Clutch
Easy pattern, simple enough for beginners.


June 30, 2011
Ruffled Fingerless Mitts
Knit up quickly in the round. They have an extra long cuff and the yarn used in the ruffle has sequins threaded in.


June 30, 2011
Headphones Cord Cover
I-cord creates a quick and simple cover for the cord of a set of headphones.


April 19, 2011
Baby Hat and Mittens
For newborns and knit on two needles.


April 19, 2011
Simple Knit Cuff
Interesting shaped knit wristcuff with an arrowhead design.


March 23, 2011
Lace Zig Zag Scarf
Knits up fast with chunky yarn...give it a try. This lace pattern is simple to knit!


March 23, 2011
Colorful Striped Roll Brim Hat
Easy hat knit in the round with a yarn that stripes and a matching solid color.


March 1, 2011
Seed Stitch Stripes Cowl
Features seed stitch edging and stripes in a contrasting solid color.


February 15, 2011
Fingerless Gloves
Fingerless gloves (not mittens) with real cropped fingers for added functionality.


January 25, 2011
Poof Hat
Features a larger circumference around the body of the hat that poofs out.


---
Also see Knit A Bit, for patterns by Barbara Breiter
---