---
---
---
Free Patterns
Babies/Kids
Adult Clothing
Other Patterns
---
Knitters Will Love...
---
Learn To Knit
Full Fashion Knitting-Decrease Inside The Edge You will often decrease at an edge to shape your knitting. Sometimes a pattern will simply tell you to decrease, then complete the row.
Decreasing at least one stitch in from the edge is called full fashion knitting and has several advantages. It will make seaming easier because you will have clear strands of yarn between rows in each to sew your seams (especially if you're using mattress stitch to seam). It also enhances the appearance of the project and adds a decorative look. Usually the decreases are worked one stitch in from the edge, but you can always work them 2 to 6 stitches in. There are various ways to decrease. Some slant to left and others slant to the right. It's important to choose the correct decrease so it slants in the proper direction.


Need more knitting instructions?

Knitting Help: Learn to Knit




The Complete Idiot's Guide To Knitting
& Crocheting (3rd edition)
by Barbara Breiter & Gail Diven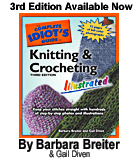 Available in book stores everywhere.
Order from Amazon now!
List Price: $16.95 Amazon Price: $11.87




The Complete Idiot's Guide To Knitting and Crocheting, has been a world wide best seller. The third edition was published September, 2006 and is available in bookstores everywhere. Information on the book and a preview of the patterns included is available at Knit A Bit.