---
---
---
Free Patterns
Babies/Kids
Adult Clothing
Other Patterns
---
Knitters Will Love...
---
Learn To Knit
P2tog (purl 2 together) P2tog is a right slanting decrease if done on the right side of the work. Insert right needle as if to purl into the next two stitches on the left needle. Purl these two stitches together. Be sure to purl the two stitches together just as if you were going to purl one stitch.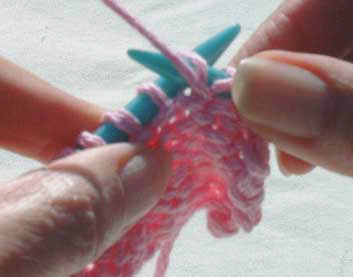 Note: For clarity, the needle is only shown through one st. Be sure to insert your needle in the next TWO stitches.


Need more knitting instructions?

Knitting Help: Learn to Knit




The Complete Idiot's Guide To Knitting
& Crocheting (3rd edition)
by Barbara Breiter & Gail Diven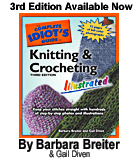 Available in book stores everywhere.
Order from Amazon now!
List Price: $16.95 Amazon Price: $11.87




The Complete Idiot's Guide To Knitting and Crocheting, has been a world wide best seller. The third edition was published September, 2006 and is available in bookstores everywhere. Information on the book and a preview of the patterns included is available at Knit A Bit.