---
---
Free Patterns
Babies/Kids
Adult Clothing
Other Patterns
---
Knitters Will Love...
---
Striped Ridges Baby Blanket Knitting Pattern
Designed by Barbara Breiter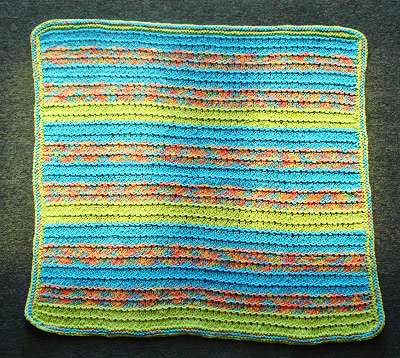 Easy to knit baby blanket featuring an interesting stitch pattern that resembles crochet. You could knit this is many colors, in one color, or in more traditional baby pastel colors. The border is knit in the round after picking up sts in multiple colors.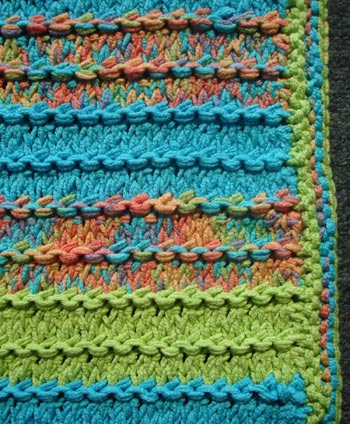 Size:
33" wide x 30" long Gauge:
16 sts=4" in pattern stitch with two strands held tog Materials:
Size 13 (9 mm) 35" circulars or size needed to obtain gauge
Bamboozle by Crystal Palace Yarns
6 balls 0406 Carib Blue - Color A
6 balls 9575 Circus - Color B
4 balls 1240 Limeade - Color C
55% bamboo/24% cotton/21% elastic nylon
90 yards/83 meters
50 grams/1.75 ounces See this listing for a shop near you. Instructions
Ridges Pattern Stitch:
Note: Stitches are decreased on Row 2 and then increased back to the original number on Row 3.
Row 1 (RS): knit
Row 2: p1, *k2tog; rep from *, end p1
Row 3: k1, *k into front and back of next st; rep from *, end p1
Row 4: purl
Rep these 4 rows. Note: Entire blanket is knit with two strands held tog. With A, CO 116 sts loosely.
Work 8 rows of Ridge Pattern Stitch with Color A, then Color B, then Color A, then Color B, then Color C. Rep this sequence twice more. Do not BO. Finishing
Border
With C, k 1 row.
With RS facing, pick up 92 sts along edge, 116 sts along CO edge, 92 sts along rem edge. Join and mark beg of rnd.
P 1 rnd.
With A, k 1 rnd.
With B, p 1 rnd.
With C, BO as if to knit.
Weave in ends on WS. ©Barbara Breiter. This design may not be reproduced in any manner without the expressed written consent of the author. See Abbreviations and the Glossary for help.
---
Also see Knit A Bit, for patterns by Barbara Breiter
---