---
---
Free Patterns
Babies/Kids
Adult Clothing
Other Patterns
---
Knitters Will Love...
---
Garter And Eyelet Baby Blanket
Designed by Joyce Mesecar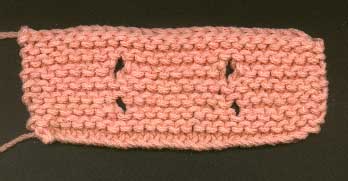 Swatch knit over 24 sts showing 2 repeats

There are many variations possible with this pattern. You can knit any number of rows you wish between working row 1. You could also space the eyelets differently by alternating row 1 as written with k2, yo, k2tog, k5, ending k2, yo, k2tog, k2. This is a quick and easy reversible baby afghan pattern. Gauge isn't important but for correct width use size 9 (US) needles and worsted weight yarn. Instructions:
Cast on 123 st.
K 10 rows for border.
Row 1: *K7, YO, K2 tog; repeat from * to last 6 st, K6
Rows 2, 3, 4 & 5: K Repeat these 5 rows until desired length. K 6 rows for the finishing border. See Abbreviations and the Glossary for help.