---
---
Free Patterns
Babies/Kids
Adult Clothing
Other Patterns
---
Knitters Will Love...
---
Feather And Fan Baby Bib Knitting Pattern
Designed by Linda Ball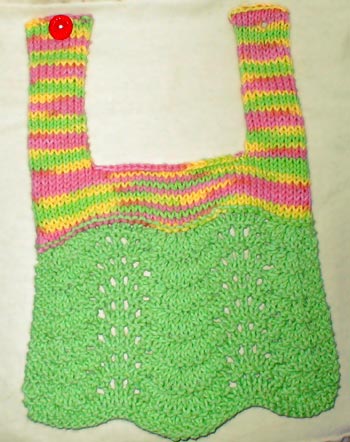 Size:
Approximately 13" x 9"
Fits newborns and older Materials: Peaches & Cream
one ball Apple Green (MC)
one ball Pink Lemonade (CC)
100% cotton
Solids: 2.5 ounces/122 yards
Prints: 2 ounces/98 yards
Size 7 US (4.5 mm) needles
Large eye tapestry needle
Button Gauge:
Approximately 20 sts=4" in St st (not vital) Instructions
Note: Slip 1 - always slip stitch from left needle onto right needle as to knit.
With MC, CO 42 sts and knit in the following Feather and Fan pattern:
Row 1 (RS): Knit
Row 2: Purl
Row 3: (border) K3, (k2tog) 3 times, (yo, k1) 6 times, (k2tog) 6 times,(yO, k1) 6 times, (k2tog) 3 times, (border) k3.
Row 4: Knit Repeat Rows 1-4 for 6"; end with Row 3 completed.
Leaving short tail, cut MC, turn work, attach CC, and knit Row 4. With RS facing, work with CC yarn in St st, slipping the first stitch of every row.
Continue in this manner until section worked in CC yarn measures 2"; end with RS row completed. Setting Up For Straps
With RS facing, slip 1, k10, BO 20 sts, knit remaining sts on needle.
Turn work to WS.
Working on WS, slip 1, p10.
Place the 11 sts BEFORE THE BO on your other needle onto a stitch holder for the present time.
Continue working this strap in St st for 5" or longer as you prefer, remembering to slip the first st at the beginning of every row.
BO on RS and cut CC.
Sew medium size button securely to this strap ½" from BO edge. Buttonhole Strap
Place sts from stitch holder back on your needle and with RS facing, attach CC yarn and knit the strap in St st for 4½", slipping the first st at the beginning of every row. End with WS row completed.
Next Row: Slip 1, k4, BO 1 st, k remaining sts on needle.
Next Row: Slip 1, p4, CO 1 st, p remaining sts on needle.
Continue in St st until strap length is equal to the other one. Finishing
Cut CC yarn and weave in all tails. Lay bib flat and wet block, shaping to desired size. © Linda Ball. Visit Linda's blog The Knitorious Mrs. B See Abbreviations and the Glossary for help.