---
---
Free Patterns
Babies/Kids
Adult Clothing
Other Patterns
---
Knitters Will Love...
---
Baby Bootie Knitting Pattern
Designed by Carole Barenys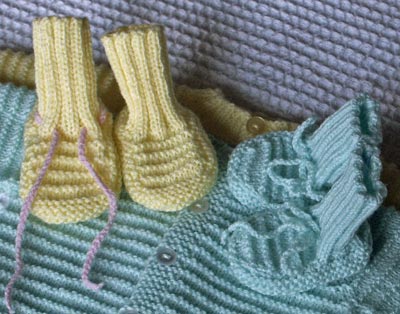 There is also a matching raglan cardigan knitting pattern. Materials:
Sport weight yarn
one set of US #3, or #4 or #5 dpn's
tapestry needle
crochet hook
Size:
With #3 needles and Bernat SofteeBaby finished boot is 4" toe-to-heel. I like the tighter knit best. Instructions:
Sole:
CO 32 sts onto one needle.
Work first round as you distribute stitches and join:
[Note: this ribbing arrangement has been set up so it will automatically center over the instep later.]
Needle #1: K 1, P 2, K 2, P 2, K 2, P 1 (10 sts)
Needle #2: P 1, K 2, P 2, K 2, P 2, K 2, P 1 (12 sts)
Needle #3: P 1, K 2, P 2, K 2, P 2, K 1 (10 sts)
Work back onto Needle #1 to join, and continue ribbing the same way for desired cuff length, usually 22 to 24 rounds. End at the join, which will be the back of the bootie. Instep:
K 10 sts from Needle #1. K 12 sts from Needle #2. Leave sts on Needle #3 without working. Work back and forth on the 12 sts of Needle # 2 to form a flap in raised stripe pattern as follows:
P 1 row
K 1 row
K 1 row (to form the raised stripe)
*K 1 row
P 1 row
K 1 row
K 1 row*
Repeat sequence between *'s twice.
K 1 row
P 1 row
K2tog, K across, K last 2 sts tog.
Pick up and K 11 sts from left side of instep.
K 10 sts from Needle 3. You are now at the heel.
P 10, pick up and P 11 sts from right side of instep, and finish round in P. (52 sts)
Stop and rearrange stitches on needles, having 17 sts on each side and 18 sts on the toe end. Welt:
Work alternating rounds of K and P for garter stitch in the round,starting and ending rounds at the heel; work until there are 5 garter stitch ridges, ending with a P round. Sole:
K 26, place marker at center of toe, K 26.
Decrease round: K2tog, work to within 2 sts of marker, K 2 tog, pass marker, K2tog, work to within 2 sts of end of round, K2tog.
K 1 round even.
Repeat decrease round.
K 1 round even.
Repeat decrease round. (40 sts)
K 20 sts onto one needle, ending at marker. Remove marker. Put remaining 20 sts together onto a single second needle. Cut yarn, leaving a 24-inch tail to weave the sole shut.
Holding the 2 needles together, right-side-out, use tapestry needle to graft sole seamlessly working Kitchener stitch. Weave in ends on cuff and sole.
Make a 16-inch single crochet chain and thread it under and over ribbing at base of cuff with a tapestry needle. It should tie over the raised rib at the center of the instep. (see photo-- illustrated with contrasting yarn) The lack of eyelets helps to keep the tie from falling out in the wash. For a plain bootie, knit the instep flap in plain stockinette or incorporate any pattern stitch you want. © Carole Barenys and used with her permission. Do not sell pattern or items made from it. For your personal use and charity knitting only. See Abbreviations and the Glossary for help.