---
---
Free Patterns
Babies/Kids
Adult Clothing
Other Patterns
---
Knitters Will Love...
---
Striped Ripple Baby Booties Knitting Pattern
Helene Marier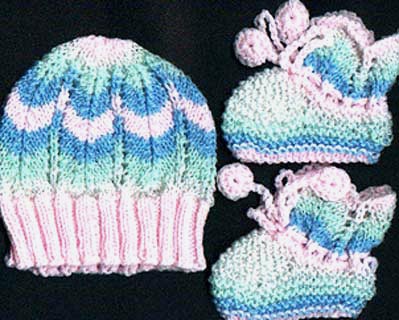 There is a matching hat pattern here. Gauge:
20 sts = 4" in pattern stitch Materials:
Sportweight or baby weight yarn
½ ounce pink (A) ¼ ounce white (B) ¼ ounce green (C) ¼ ounce blue (D) Size 3 US (3.25 mm) double pointed needles or size needed to obtain gauge - set of 4
Size E4 (3.5 mm) crochet hook (optional) Instructions
This pattern uses a multiple of 11 sts.
With A, CO 33 sts. Divide over 3 needles, mark beg of round and join.
Rows 1 and 2: Knit
Row 3: With B, *k2tog, k3, yo, k1, yo, k3, s1, k1, psso; rep from *
Row 4: Knit
Row 5: Rep Row 3
Rows 6, 7 and 8: With C, rep Rows 4, 3 and 4.
Rows 9, 10 and 11: With D, rep Rows 3, 4 and 3.
Row 12: With A, knit
Row 13: *K2tog, yo; rep from * to last st, k1
Row 14: Knit
Row 15: Purl
Row 16: With B, k22 st, turn. K11, turn. Top of Foot
Over these 11 sts, k 14 more rows.
Cut yarn and reattach at base of top of foot on the right. Pick and 9 sts on the right, knit the 11 sts for top of foot, pick up 9 sts on left side, and k11 sts from the other needle - 51 sts
Row 17: Purl
Row 18: Knit
Row 19 and 21: With C, purl
Row 20: Knit
Row 22: With D, k2, k2tog, k17, k2tog, k5, k2tog, k17, k2tog, k2.
Row 23: Purl
Row 24: K2, k2tog, k15, k2tog, k5, k2tog, k15, k2tog, k2..
Row 25: With A, purl
Row 26: K2, k2tog, k13, k2tog, k5, k2tog, k13, k2tog, k2
Row 27: Purl BO, leaving a long tail to sew bottom. Weave in ends. Ties (Make 2)
You can use ¼" wide ribbon 15" long and thread through eyelets or crochet as follows:
With A ch 3. Join with slip st to form ring.
Ch 2, work 10 dc in ring, join with slip st to beg ch 2.
Ch 70 loosely (about 14 inches), slip st in 3rd ch from hook.
Ch 2, work 10 dc in ring, join with slip st to beg ch 2.
Break yarn and loop and attach long chain to the double crochet ring as you weave in the ends. See Abbreviations and the Glossary for help.