---
---
Free Patterns
Babies/Kids
Adult Clothing
Other Patterns
---
Knitters Will Love...
---
Ribbed Baby Booties Knitting Pattern
Designed by Carole Barenys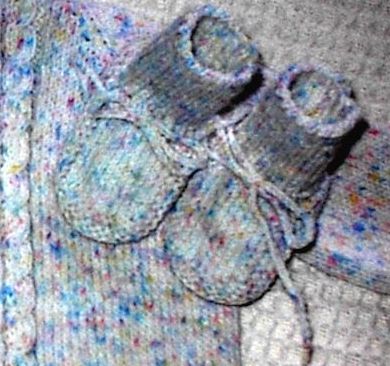 This pattern is knit in the round from the cuff down. The sole seam is either grafted (smoother) or sewn shut. There is no knotting or yarn to add if you work in one color. These instructions make a newborn size. Materials:
Lion Brand Jamie Sport Yarn - and excellent way to use up partial skeins. A full skein will yield 2 to 3 pairs.
Set of 4 size 2 or 3 (US) double pointed needles Instructions:
Cast on 34 sts. Cuff: Work 24 rounds in K1, P1 ribbing. Divide for instep: With needle #1, K 11. With needle #2, K 12. Needle #3 will have 11 sts on it (do not work these sts now). P 12 sts that are on needle #2 with free needle. Continue K a row, P a row for instep until there are 18 rows total, ending with a P row. *K2 tog, work to end. P2tog, work to end.* Repeat between * once. 8 sts remain on instep. Work 1 more row in K. Welt: (This will be created using garter stitch.) With spare needle, pick up and K 11 sts from left side of instep. K 11 sts from needle #3. You are now at the heel of the bootie. P 11 sts from needle #1. Pick up and P 11 sts from right side of instep. P 8 across toe, then P until you reach the heel (52 sts total). Before continuing, rearrange stitches at toe end, taking 5 sts from each side and putting them on the needle that has the toe sts. K 1 round, P 1 round and repeat alternating rounds until you have 5 garter stitch ridges (end on P). Sole:
Round 1: K 26, place a marker, K 26.
Round 2: Decrease 1 st, K to within 2 sts of marker, decrease 1 st. Pass marker, decrease 1 st, K to within 2 sts of end of round, decrease 1 st.
Round 3: K.
Round 4: as for round 2.
Round 5: K.
Round 6: as for round 2.
Last row: K half a round (20 sts), ending at toe marker. Break off yarn, leaving about 12 inches to graft sole. (Alternate ending would be instead of knitting the half round, to bind off the full round and then sew the seam.) Tie: Crochet two 16-in chains. If yarn is very thin you may use a double strand. Thread into cuff about 3 rows above the instep using tapestry needle to draw chain through, going in-and-out four times. Tie bow in front. To make larger booties, either use a thicker yarn and larger needles, or add a few rows to the length of the cuff and instep, and the number of stitches picked up on each side. See Abbreviations and the Glossary for help.