---
---
Free Patterns
Babies/Kids
Adult Clothing
Other Patterns
---
Knitters Will Love...
---
Jester Baby Hat Knitting Pattern
Designed by Laurie Graham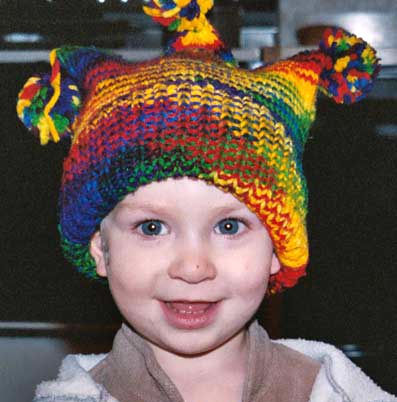 Knit by Sara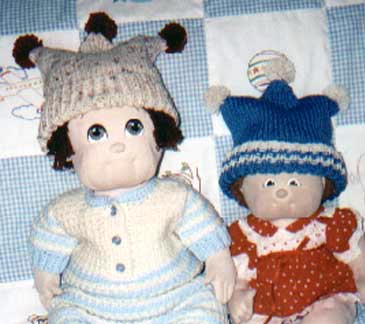 Knit by Nancy Swinburnson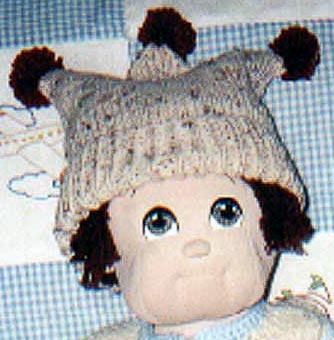 Gauge:
20 sts=4" in St st Sizes:
0-3 months (6-9 months, 12 months) Materials:
Needles appropriate to yarn to obtain gauge
3 ounces worsted weight yarn Instructions Directions are given in smallest size, larger sizes are in parentheses. Where one number is given it applies to all sizes. Front:
Starting at lower edge, CO 29 (33, 35) sts and work in k1, p1 rib for 4 inches. (This gives a turned-up rib to double over the ears. If you don't want this, just work 2 inches of ribbing and subtract 2 inches from the final measurement.)
Change to St st.
Continue until piece measures 8½" (9½", 9¾") from beg.
End after purl row.
Next row: Knit 10 (11, 12) sts, place on holder. Knit next 9 (11, 11) sts, turn.
Place rem 10 (11, 12) sts on holder.
Purl across center 9 (11, 11) sts.
Next row: K1, ssk, knit to last 3 sts; k2tog, k1.
Next row: Purl.
Continue to rep these two rows until 3 sts rem, k3tog, cut yarn and pull through loop to finish. Make back the same way. Finishing:
Sew side seams, graft stitches across top on either side of center "point", sew sides of "point" together. Add pom-poms to each point. See Abbreviations and the Glossary for help.