---
---
Free Patterns
Babies/Kids
Adult Clothing
Other Patterns
---
Knitters Will Love...
---
Baby Slippers Knitting Pattern
Designed by Caroline Dlugy-Hegwer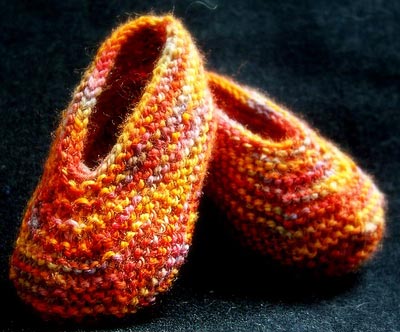 My biggest problem as a sock knitter, is what to do with my left over yarn, in particular with these no bigger than a walnut darling balls of yarn. Yesterday, as I was packing all this week's colorways to be shipped from Hawaii to Brussels, and occasionally staring at the little yarn walnuts on the table, I found what I wanted to do. For every pair of socks, I would knit a pair of baby slippers. So I took a little break from packing, grabbed my trusted Addis, and a little yarn walnut, and got to work. Here is the result. These slippers are magic to work. NO SEAMS at all, no origami construction, all garter stitch, mostly knit in the round, and about one pair per hour! My promise to myself is that I will knit a pair of slippers for every pair of socks I knit, and that I will donate the slippers to my local community health center. These slippers are newborn size, but can easily be made bigger by knitting the even section of the sole longer and picking up more stitches along the sides of the sole. Materials:
1 skein SockPixie Merino Sock Yarn
Size 1 US (2.25 mm) double pointed needles or 2 16" circulars
You may use straight needles to begin the pattern Gauge:
30 sts= 4 inches in garter st Instructions
Sole:
Note that the sole is knit in garter stitch, knitting back and forth.
Cast on 7 stitches.
Knit 2 rows.
Repeat the following 2 rows until you have 15 stitches.
Row 1: K1, knit into front and back of next st, knit till 3 stitches are left, knit into front and back of next st, k2
Row 2: Knit Knit even in garter stitch until the whole sole from the cast on edge measures 2½". Repeat the next 2 rows until you have 5 sts left.
Row 1: K1, k2tog, knit until 3 sts are left, k2tog, k1
Row 2: Knit Do not BO. Keep these 5 sts on your needle, and with that same needle pick up 28 sts to the center of the toe. Take your second needle and pick up 29 sts from the center of the toe to right before the 5 original sts, and knit 2 sts from the first needle to the second. You will now have 31 sts on each needle. The beginning of the round will be at the heel. Attach marker to show location of heel. The rest of the slipper is knit in the round, in garter stitch (purl one round, knit 1 round). Round 1 and all odd rounds: Purl
Round 2: K25, k2tog, k8, SSK, k25
Round 4: K24, k2tog, k8, SSK, k24
Round 6: K23, k2tog, k8, SSK, k23
Round 8: K22, k2tog, k8, SSK, k22
Round 10: K21, [k2tog] 3 times, [SSK] 3 times, k21
Round 12: K18, [k2tog] 3 times, [SSK] 3 times, k18
Round 14: K15, [k2tog] 3 times, [SSK] 3 times, k15
Round 15: Purl BO loosely knitwise.
Weave in ends, make a second identical slipper, and find a lucky baby to give the slippers to! For personal use only. © Caroline Dlugy-Hegwer and used with permission. Visit Caroline's blog Sockpixie. See Abbreviations and the Glossary for help.