---
---
Free Patterns
Babies/Kids
Adult Clothing
Other Patterns
---
Knitters Will Love...
---
Ripple Eyelet Baby Sweater Knitting Pattern
Designed by Jeannie Leech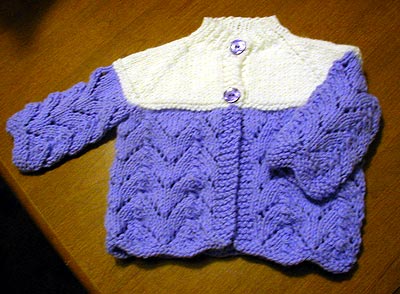 This adorable knitting pattern for a baby sweater features an easy ripple pattern with eyelets. It also has a matching hat! Size:
6 - 9 months
Finished chest measures 22" Gauge:
17 sts=4" over pat st Materials:
Size 8 US (5 mm) needles or size needed to obtain gauge
5 ounces worsted weight yarn Instructions: Pattern Stitch
Row 1: k2, *yo, k3, sl1, k2tog, psso, k3, yo, k1; rep from *, end k2 instead of k1
Rows 2, 4, 6, and 8: p
Row 3: k2, *k1, yo, k2, sl1, k2tog, psso, k2, yo, k2; rep from *, end k3 instead of k2
Row 5: k2, *k2, yo, k1, sl1, k2tog, psso, k1, yo, k3; rep from *, end k4 instead of k3
Row 7: k2, *k3, yo, sl1, k2tog, psso, yo, k4; rep from *, end k5 instead of k4 Sleeves (make 2 sleeves first)
CO 33 sts and work 8 rows in garter stitch (knit every row).
Work Rows 1-8 of Pattern Stitch 4 times.
BO 2 sts beg next 2 rows. Put sts on holder. To work sleeves in the round instead, CO on 30 sts and eliminate beginning and ending sts, working only the sts from the *. Body (worked in one piece to armholes)
CO 98 sts. Work 4 rows in garter stitch.
Keeping first and last 4 stitches in garter stitch, work Rows 1-8 of Pattern Stitch 5 times, eliminating beginning and ending sts and working only the sts from the *. Divide for armholes as follows:
You may change to a different color here or use the same color.
K23, BO 4 sts, k44, BO 4 sts, k23
Next row: Purl back, placing sleeve sts from holder on needle and placing markers at beginning and end of each sleeve.
Work 4 rows garter stitch.
Next row: Make a buttonhole on garter band and begin armhole decreases as follows:
knit to within 2 stitches of next marker, k2tog through back loop, slip marker, k2tog. Repeat across row.
Next row: purl
Repeat these last 2 rows 6 more times. Shape Neck
Continuing armhole decreases, place first 4 sts of next 2 rows on holders, then decrease 1 st each end every other row 2 times. After 12 armhole decreases total have been worked, place remaining stitches on a holder. Neckband
Pick up 50 or 51 sts including stitches on holders.
Keeping the first and last 4 in garter stitch make another buttonhole and work about an inch of ribbing. Finishing
Sew sleeve seam and underarm. Sew on buttons. Weave in ends on WS. See Abbreviations and the Glossary for help.