---
---
Free Patterns
Babies/Kids
Adult Clothing
Other Patterns
---
Knitters Will Love...
---
Seamless Raglan Baby Cardigan Sweater
Designed by Carole Barenys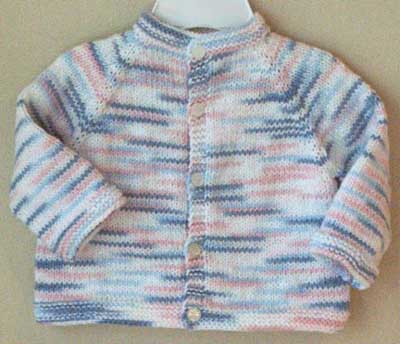 This is a seamless raglan cardigan knit from the top down. It measures a generous 20" around closed across the tummy and about 10" neck to bottom-about a 4 to 10 month size. The sweater as shown used the middle numbers in the pattern. I used Bernat Softee Baby, which is a sport weight. If I were to use a thinner sport weight yarn, such as Jamie, I would use the larger numbers and maybe even increase the number of ridges between buttonholes. For a heavier sport weight yarn, use the smaller numbers. Materials:
1 ball Bernat Softee Baby (sport weight)
#4 US needles
#4 d.p. needles
crochet hook
tapestry needle
5 half-inch buttons
Gauge:
about 11 st and 10 rows to 2" Instructions: Neck Band:
Cast on 57 stitches loosely. Work even in garter stitch
(knit each row) until there are 2 garter stitch ridges (4 rows).
Buttonhole row (right side):
For boy's sweater, begin row K 2, YO, K 2 tog, K across. For girl's sweater, K across to last 4 stitches, end with K 2 tog, YO, K 2.
Remember to repeat buttonhole every 18-20-22 rows (9-10-11 garter st ridges).
After first buttonhole row, continue in garter stitch until there are 4 ridges. Begin Raglan Shaping:
Place Markers (right side): K 4-keeping these in garter stitch for button border-K 9 for front, place marker, K 6 for sleeve, place marker, K 19 for back, place marker, K 6 for sleeve, place marker, K 9 for front, K 4 for button band.
Row 1 (wrong side): K 4, P across, passing markers, K last 4
Row 2 (right side): K 4, K to within 2 sts of marker, Increase in next stitch (by knitting into the back and then the front of the same stitch), K 1, pass marker, increase in next stitch. Work across, increasing at next-to-the-last stitch before marker and in the first stitch after each marker. Keep button bands in garter stitch (65 sts), Each increase row adds 8 stitches.
Row 3 (wrong side): K 4, P across, passing markers, K last 4
Continue working Rows 2 and 3 until you are ready to do the 3rd buttonhole (9-10-11 ridges down from second buttonhole). Divide For Sleeves:
(right side) Work across row, doing increases and buttonhole where indicated. After each sleeve has been worked, stop and put the sleeve sts between markers onto a stitch holder.
Work another reverse row, leaving one marker at each underarm.
Increase row (right side): Work across, increasing before and after the two markers at underarms in the same manner as above. 4 sts added.
Continue to work even, repeating increase row twice more at 1¼ inch intervals. Bottom Band:
Work until there are 7-8-9 garter stitch ridges under 4th buttonhole.
Switch to garter stitch and after 2 ridges, work buttonhole, to correspond to neck.
Work 2 more ridges and bind off loosely. Sleeves:
Pick up sleeve stitches on holder on dp needles. Join yarn at underarm and work (all K rounds)to desired length.
Decrease 4-5-6 sts evenly in last round and finish sleeves in garter stitch (K one round-P one round) to match collar. Repeat for 2nd sleeve.
Weave in ends, sewing shut little holes under arms. Sew buttons securely. See Abbreviations and the Glossary for help.