---
---
Free Patterns
Babies/Kids
Adult Clothing
Other Patterns
---
Knitters Will Love...
---
Mitered Dishcloth
Designed by Mary Lee Herrick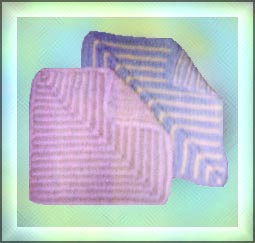 Cast on 71 stitches. Knit back.
Next row (right side), with second color, knit 34, do double decrease (SK2P or K3tog), knit to end, knit back. Continue in same pattern with first color-double decrease in center of first row, knit back. Continue, changing colors every two rows (1 ridge). I find it easier to put a marker before the double decrease so I don't have to keep looking or don't knit past it--you have to move the marker each time you do the decrease, but it is worth it if you otherwise make mistakes. When you are down to 5 stitches (right side row), knit 1, double decrease, knit 1.
Turn, knit 3 together, cut yarn and pull through loop. Or pull a loop through the loop and tighten, do slip stitch with crochet hook around edge for nicer finish (e.g. insert hook, pull up a loop through previous loop, repeat). Alternatively, knit the pattern the same as above, but do four rows of one color (two ridges), two rows of the second. See Abbreviations and the Glossary for help.