---
---
Free Patterns
Babies/Kids
Adult Clothing
Other Patterns
---
Knitters Will Love...
---
Pinwheel Cloth Knitting Pattern
Designed by Barbara Breiter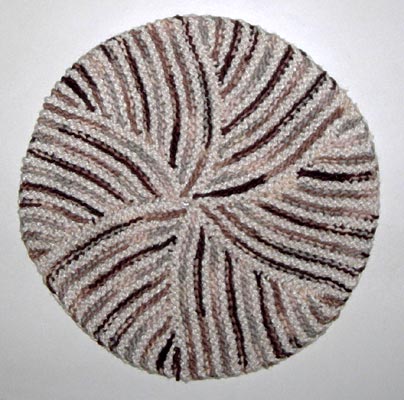 Easy to knit short rows are the key to this beautiful pinwheel pattern. Use it as a guest face cloth or under a vase or candle. There are also many variations possible. Use a thicker yarn and it makes a great pot holder or hot pad. Make it larger and you have knit a great rug. The pattern was knit using two colors but it can be knit in one or many colors. The diameter is dependent on the gauge and the number of stitches you cast on. Cast on any odd number. Size:
11½" diameter Gauge:
16 sts=4" in St st Materials:
25 grams worsted weight cream yarn (Color A)
25 grams worsted weight variegated yarn in shades of brown (Color B)
(Both yarns seen in pattern are discontinued. Color A was Tahki Chelsea Silk and Color B was Noro Cotton Iroha)
Size 8 US (5 mm) needles
Tapestry needle Instructions
The pinwheel is knit in 6 sections, each joined together. With A, CO 23 sts. Row 1 (WS): With A, Sl 1 wyib, k to end
Row 2: With B, k to last 2 sts, wrap and turn as follows:
Sl 1 wyib, move working yarn to front of work, turn, k the slipped st.
K to end.
Row 3: With A, k to last 3 sts, wrap and turn, k to end.
Row 4: With B, k to last 4 sts, wrap and turn, k to end.
Cont in this manner, changing colors and knitting one less st before turning until you have have completed the row where you will k to last 3 sts, wrap and turn, k to end with B. Preparation Row For Next Section
This takes some manipulation. It is easier to knit the sts together if the strand is placed behind the next st but if it is in front you will still be able to knit the sts together and cannot really see the difference. With A, k3, *insert right needle into strand that wraps the next st, lift up the strand and place on left needle behind the first st on left needle, k2tog tbl the strand and the stitch; rep from *, end k1 Rep 5 more times, beginning with Row 1 and ending with preparation row each time. Finishing
Do NOT BO. Cut yarn leaving a long tail. Thread tail through tapestry needle. Weave tail through first st on needle and remove from needle and through first st on CO edge. Cont in this manner. Weave in ends on WS. Block. ©Barbara Breiter. This design may not be reproduced in any manner without the expressed written consent of the author. See Abbreviations and the Glossary for help.
---
Also see Knit A Bit, for patterns by Barbara Breiter
---