---
---
Free Patterns
Babies/Kids
Adult Clothing
Other Patterns
---
Knitters Will Love...
---
Bath Scrubber Knitting Pattern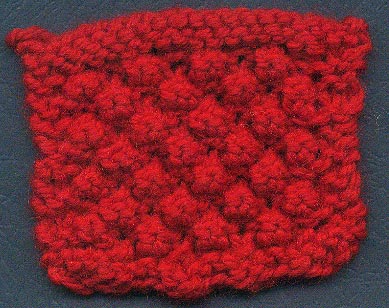 Swatch shows fewer repeats than pattern.

Materials:
Worsted weight cotton dish cloth yarn (Sugar 'N Cream, Lion Cotton, Bernat Handicraft)
Needles appropriate to yarn (about size 8 US or 5 mm) Gauge:
Not vital Instructions:
Note: Knit the first and last 4 sts of every row. CO 44 sts. K 6 rows. Row 1 (RS): p
Row 2: *k1, p1, k1 into next stitch, p3tog; rep from *
Row 3: p
Row 4: *p3tog, k1, p1, k1 into next stitch; rep from * Rep Rows 1-4 until about 8-10 inches. Knit 6 rows. BO. See Abbreviations and the Glossary for help.