---
---
Free Patterns
Babies/Kids
Adult Clothing
Other Patterns
---
Knitters Will Love...
---
American Girl Cardigan or Pullover Knitting Pattern
Designed by Janice Helge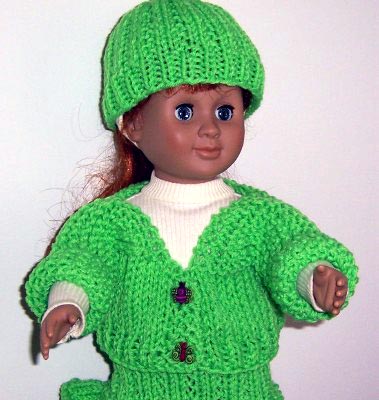 Fits American Girl Dolls and other 18 inch dolls. You can make this as a cardigan or a pullover. See the photo of the pullover here. Materials:
Size 10½ US (6.5 mm) needles
About 20 ounces of worsted weight yarn (used Red Heart Kids) Gauge:
3½ sts = 1 inch Instructions: Beginning at bottom of back, CO 21 sts.
K1, P1 ribbing for 3 rows.
Next row is a knit row: *K1, inc in the next st, repeat from * across row. (31 sts)
Beginning with a purl row, work next 9 rows in St st.
At beginning and end of next row, increase 1 st each side. Purl 1 row. CO for sleeves:
Working in garter stitch, CO 11 stitches at beg of next 2 rows. Work in garter stitch for 8 ridges (16 rows). Shape back neck:
K17, BO middle 21 sts at the same time decreasing 3 sts evenly across those middle sts, k17. Shoulder and front neck shaping:
Working one shoulder at a time and keeping in garter stitch, knit 4 rows. Begin front neck shaping:
Knit 12 rows, increasing 1 stitch at front neck edge every other right side row. (23 stitches) (Tip: Do the increases one stitch in from the edge for a neater appearance.)
Row 13 (WS): Knit across, casting on 3 stitches at center front edge for a buttonband.
Row 14: Knit across.
Row 15: BO 11 sleeve stitches loosely, purl to last 3 sts, K3 for garter stitch edge. (15 sts) Work 9 more rows of St st, keeping 3 sts at center front edge in garter stitch for buttonband. Work 3 rows of K1, P1 ribbing and BO. Right front:
Join yarn and work other side to correspond. Sew underarm seams. Sew 2 or 3 buttons on the front. If you would like to knit this pattern as a v-neck pullover instead of a cardigan, just join the sts by working across all the sts for the front section at (Row 13) and continue pattern from there, ignoring the instructions about the 3 stitches at the center front edge which make the buttonband. Don't forget to BO the 11 sleeve sts on both sleeves. See Abbreviations and the Glossary for help.