---
---
Free Patterns
Babies/Kids
Adult Clothing
Other Patterns
---
Knitters Will Love...
---
Barbie Doll Pleated Skirt Knitting Pattern
Carolyn Crompton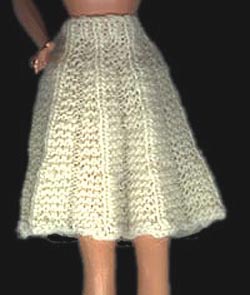 Materials:
Fingering weight yarn Size 1, 2, or 3 US (2.25, 2.75, 3.25 mm) depending on thickness of yarn
Small snap Instructions
Beginning at waist, CO 34 sts.
Work in k1, p1 ribbing for 4 rows, inc 1 st at end of last row by knitting in front and back of st - 35 sts.
Row 1: k3, *p1, k3; rep from *
Row 2: k1, *p1, k3; rep from *, ending p1, k1.
Repeat these two rows twice.
Row 7: *Inc 1 st, k1, inc 1 st, p1; rep from *, ending inc 1 st in last st.
Row 8: k2, *p1, k5; rep from *, end p1, k2.
Row 9: *k5, p1; rep from *.
Row 10: Rep Row 8.
Rep Rows 9 and 10 for about ½", ending with Row 10.
Next row: *Inc 1 st, k3, inc 1 st, p1; rep from *, ending inc 1 st in last st. Stop here and mark this side as the increase side with a small safety pin. Now look at the emerging pattern. You are developing wedge shaped panels of garter stitch separated by one-stitch fold lines of knit stitches (also of purl stitches, but they aren't very obvious to the eye). On future increase rows you will be increasing one stitch at the beginning and end of the row and just before and after each fold line knit stitch. For a very short full skirt, (for a skating or cheerleader costume perhaps) make the increases every few rows; for a knee length skirt, make them about every ¾ inch. Next row: k3, *p1, k7; rep from *.
Cont in this pattern, adjusting stitch count to each increase until desired length.
BO.
Sew back seam to within ¾" of top.
Sew snap fastener at waistline. Photo ©Sarah Bradberry and used with her permission. See Abbreviations and the Glossary for help.