---
---
---
Free Patterns
Babies/Kids
Adult Clothing
Other Patterns
---
Knitters Will Love...
---
Beanie Baby Sun Dress Knitting Pattern
Betsy Baird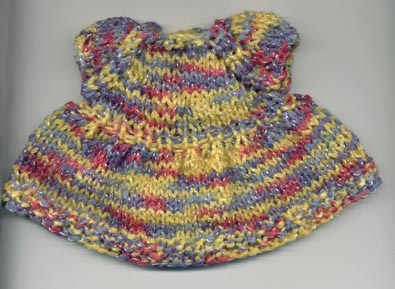 This pattern is especially suitable for left over Red Heart variegated baby yarn. It takes me about an hour and a half to whip one of these out and it only has two ends to darn in. I recommend it for holiday charity bazaars. I also gratefully acknowledge the other designers whose ideas I have adapted here, especially Martha Haynes, Mary K. Dominski and Anne Bosch. Materials:
#3 double point needles, set of five
1 oz. sport weight yarn
yarn needle for finishing Gauge:
5 stitches/inch (gauge is not critical, toys are not fussy about fit) Directions:
Cast on 22 stitches (suggestion: Cable Cast On).
Join and knit one round of k1p1 rib. Yoke:
Divide stitches on four needles: 3, 8, 3, 8
Row 1: Increase 1 stitch at each end of each needle (suggestion: yarn overs one stitch in from each end).
Row 2: Knit even. Repeat these two rows for a total of six times (70 stitches: 15, 20, 15, 20).
On last even round, k1p1 rib only on the two sets of 15 sleeve stitches. Waist:
On next round, bind off the two sets of 15 sleeve stitches in knit.
Join body stitches and knit one round even (40 stitches: 10,10,10,10). Suggestion: Switch the order of each pair of underarm stitches to tighten gap.
K1p1 rib for three rounds.
Increase 1 in every stitch of next round (80 stitches: 20, 20, 20, 20). Suggestion: Knit in front and back of each stitch. Skirt:
Knit 12 rounds even.
Seed stitch for next 4 rounds.
Bind off in pattern.
Darn in two ends. ©Elizabeth Baird. See Abbreviations and the Glossary for help.