---
---
---
Free Patterns
Babies/Kids
Adult Clothing
Other Patterns
---
Knitters Will Love...
---
Mitered Hat
Nancie Kremer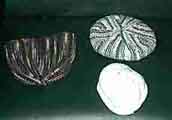 This hat can be worked in garter st for a cloche appearance or st st for a rolled brim effect. Materials:
Any yarn may be used with appropriate needles. Small amount of yarn about 1 oz. Gauge:
The gauge should be checked with the yarn and needles selected. Then determine how many stitches are required for 8" for an adult, 6" for a small child and 4" for a baby. The garter stitch adult hat was knit with worsted eight yarn with size 9 needles (US), giving a 4 st to the inch. Instructions:
Cast on 30 sts and k one row.
K 29 sts and turn, k back to end of row.
K 28 sts and turn, k back to end of row. Continue in this manner with one st less each row until you have k 20 sts, turn, k back to end of row. This completes one section or wedge. Make 5 more wedges for a total of 6 wedges. Bind/cast off or work a 3 needle bind off with the cast on row. For a rolled brim adult hat, work as above but in stockinette. The purl side will be the right side as the k side rolls up over the purl. If you want a rolled brim on a garter st hat, add 4 sts and keep these in st st. This hat can be worked also be worked in multiple colors. Each section can be a different color or alternate colors. See Abbreviations and the Glossary for help.