---
---
---
Free Patterns
Babies/Kids
Adult Clothing
Other Patterns
---
Knitters Will Love...
---
Spiral Hat
Nancie Kremer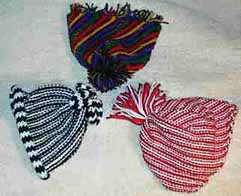 The three hats shown are hand knit. The black hat with four solid colors was done in garter st while the others were done in stockinette. The turquoise and black hat was machine knit. This hat easily fits an adult. It could be made smaller by using lighter weight yarn and smaller needles, then only working for 18".

Materials:
Worsted weight yarn, 4 or 5 oz total. Two or more colors. (Check your stash.) Size 9 needles (US) Gauge:
4 sts = 1" Instructions:
Cast on 45 sts. Row 1: K
Row 2: P
Row 3: K2tog, k to last two sts, inc 1, k1
Row 4: P Repeat rows 3 and 4 making stripes by changing colors every two rows. Work for 21-22". Bind/cast off all sts. After deciding whether the k or p side will be the right side, sew the ends together. Run yarn through the sts of one edge, pull tight and secure. Make pom pom and attach to top. See Abbreviations and the Glossary for help.