---
---
Free Patterns
Babies/Kids
Adult Clothing
Other Patterns
---
Knitters Will Love...
---
Striped Spiral Hat Knitting Pattern For Adults
Designed by Barbara Breiter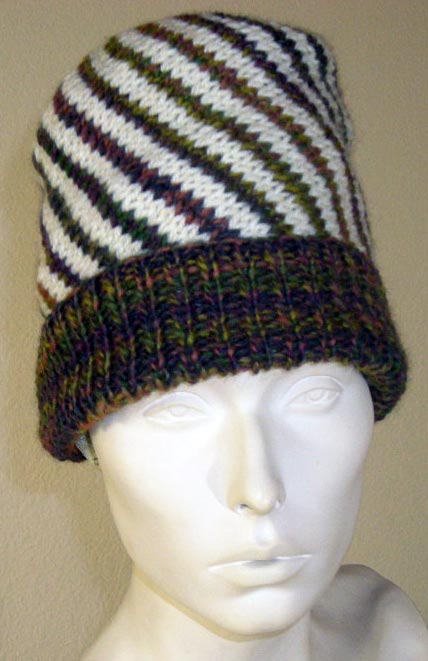 This spiral hat can be knit in any stripe combination you wish. You could use multiple colors, make each color as many rows as you wish...it's endless. Size:
Fits most men and women; circumference=20" Gauge:
18 sts=4" in St st Materials:
Size 8 US (5 mm) needles or size needed to obtain gauge
Two or more colors of worsted weight yarn Instructions: Body Of Hat
To knit the hat as shown, change colors between A and B every two rows.
With Color A (your choice), CO 45 sts.
Row 1: K
Row 2: P
Row 3: K1, k into front and back of next st, k aross rem sts
Row 4: P1, p2tog, p across rem sts
Rep Rows 3 and 4 until piece measured 20". If working two colors of stripes, end with Color B. BO. Piece should be a parallelogram. Top
Along one row edge, pick up 70 sts evenly across.
Row 1: *p3, p2 tog; rep from * - 56 sts
Row 2: *k2, k2tog; rep from * - 42 sts
Row 3: *p1, p2tog; rep from * - 28 sts
Row 4: k2tog across - 14 sts
Row 5: p2tog across - 7 sts
Cut yarn, leaving long tail. Thread through tapestry needle and thread through each rem st on needle as if to purl, taking sts off needle. Secure temporarily with safety pin. Brim
Along other row edge, pick up 92 sts evenly across. Work k1, p1 ribbing (k1, p1 across) 3". BO, leaving a long tail. Finishing
Sew side seam, reversing side you seam for brim if you plan to flip it up, and short seam of top. Thread tail from top through tapesty needle again and pull tightly close top of hat. Weave in ends on WS. Fold up brim to desired length. ©Barbara Breiter. This design may not be reproduced in any manner without the expressed written consent of the author. See Abbreviations and the Glossary for help.
---
Also see Knit A Bit, for patterns by Barbara Breiter including a large selection of felted and non-felted hats
---