---
---
Free Patterns
Babies/Kids
Adult Clothing
Other Patterns
---
Knitters Will Love...
---
Knitted American Flag
Designed by Dori Johnson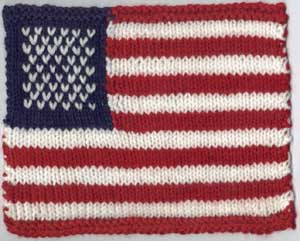 One way to use this pattern is to make a number of them and stitch them together into a throw. Materials:
Worsted weight yarn, 2 ounces each of red, white and navy blue
Knitting needles size 7 US Gauge:
4.5 stitches per inch Finished Size:
9" X 7" Instructions:
With red, cast on 40 stitches.
In garter stitch (knit every row), knit 4 rows in red.
Attach white (do not cut red, simply drop color at end each color change and bring up next time it is used.).
In stockinete stitch (knit one row, purl the next), knit 4 rows white, 4 rows red, 4 rows white, 4 rows red, 4 rows white.
Next, knit 24 stitches in red, attach blue, knit to end.
Continuing in red and white sequence, knit navy in last 16 of each row.
Before starting the last band of red, you will have 6 red and 6 white bands.
For the last band, which will be red, do all 4 rows in garter stitch.
You will have 7 bands red and 6 bands white.
Bind off.
Using duplicate stitch for stars, evenly space rows of 6 stars then 5 stars for 9 rows. The last row will be 6 stars. Work 50 stars total. See Abbreviations and the Glossary for help.