---
---
Free Patterns
Babies/Kids
Adult Clothing
Other Patterns
---
Knitters Will Love...
---
Angel Christmas Ornament Knitting Pattern
J. Barrett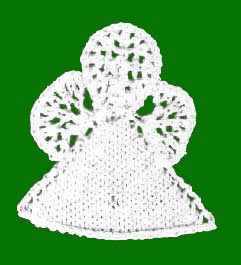 Use any weight yarn and needles appropriate for the yarn. The thinner the yarn, the smaller the ornament will be. A lighter weight yarn would look beautiful for this delicate lace angel. Instructions
CO 5 sts, leaving a long end to sew head together.
Row 1: k5
Row 2: *k1, yo; rep from *, end k1 - 9 sts
Row 3: k9
Row 4: *k1, yo; rep from *, end k1 - 17 sts
Row 5: k17
Row 6: *k1, yo; rep from *, end k1 - 33 sts
BO. Sew seam of head with tail. Skirt
With RS facing, pick up 5 sts along bottom edge of head. P5. K5. P5.
Row 1: k1, yo, k to last st, yo, k1
Row 2: p Rep Rows 1 and 2 until you have 25 sts or 3½" or desired length.
BO.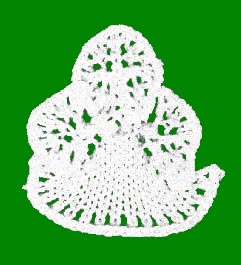 Variation For Skirt
If you *k1, yo; rep from *, end k1 for Row 1, it gives the angel more of a flared skirt. Wings/Arms
With RS facing, pick up 3 sts along side of top of skirt under head.
Row 1: p
Row 2: k
Row 3: p
Row 4: *k1, yo; rep from * Rep Rows 3 and 4 until you have 17 sts. BO.
Rep on other side. Hair (Optional)
Attach yarn at the neck edge and work a sc and ch1 in each st around the head. Finishing
Weave in ends on WS. Add loop for hanging. © J. Barrett See Abbreviations and the Glossary for help.