---
---
Free Patterns
Babies/Kids
Adult Clothing
Other Patterns
---
Knitters Will Love...
---
Valentine Heart Bag For Barbie Knitting Pattern
Designed by Joan Wettstein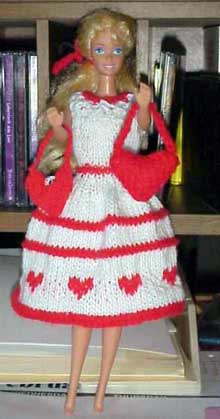 Use sport weight yarn and size 3 US (3.25 mm) needles. Instructions
CO 2 sts.
Row 1 (RS): Inc 1 st in first st-3 sts
Row 2 and all wrong side rows: Purl
Row 3: Inc 1 st each end-5 sts Cont inc 1 st each end of RS rows until you have 11 sts.
Purl one row. Row 11: K5, BO 1 st, K5.
Row 12: P3, P2tog.
Row 13: K2tog twice.
Row 14: P2tog. Draw yarn through last st. Join yarn to other set of 5 sts on WS.
Row 1: P2tog, P3.
Row 2: K2tog twice.
Row 3: P2tog.
Draw yarn through remaining st. Make another piece the same. With RS tog, sew up sides, leaving an opening at the top.
Turn right side out and stuff with fiberfill or potpourri.
Sew gap on outside carefully. See Abbreviations and the Glossary for help.