---
---
Free Patterns
Babies/Kids
Adult Clothing
Other Patterns
---
Knitters Will Love...
---
Christmas Bell Knitting Pattern
Kathleen Day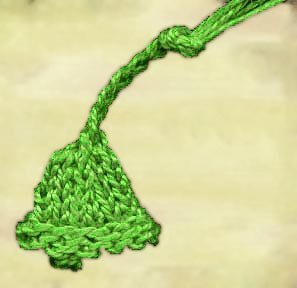 Knit up this quick and easy Christmas bell. Use sportweight or fingering weight yarn and it will be about one inch tall...great for a pin. Use heavier yarn and bigger needles for a larger ornament. Instructions:
CO 12 sts, leaving a long tail for sewing.
Work 6 rows St st.
Next Row: k2tog, k4, k2tog, k4 - 10 sts
Purl one row.
Next Row: k2tog across - 5 sts
Thread yarn through tapestry needle and weave through these sts. Pull up to tighten. Use tail to make a loop. Seam the side of the bell.
Turn up the bottom of the bell. Variation
Begin with a few rows of garter stitch instead of St st, then not turn up the bottom edge. Use a smaller needle for the garter stitch rows; this will keep the bottom from flaring too much. Bobble (Clapper)
CO 1 st, leaving a long tail
(k1, yo, k1, yo, k1) in the first st - 5 sts
sl 1, k4
sl 1, p4
sl 1, k4
sl 1, p4
K2tog, k1. BO 1 st. K last 2 sts tog and BO - 1 st
Fasten off, leaving a tail.
Tie the CO tail and the BO tail together to make the bobble round. Pull the tails up through the bell and fasten to the inside at the top. See Abbreviations and the Glossary for help.