---
---
Free Patterns
Babies/Kids
Adult Clothing
Other Patterns
---
Knitters Will Love...
---
Christmas Stocking Ornament Knitting Pattern
Designed by Catherine Bach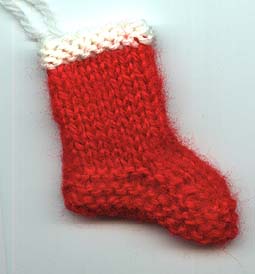 Knit by Sarah Bradberry. Materials
Size 2 US needles Small amounts of red, white and/or green sock weight yarn Instructions
Cast on 18 sts using the white yarn.
Knit 1 row, purl 1 row, knit 1 row.
Cut the white yarn leaving enough yarn to sew up the white part or make a loop.
Using the red or the green yarn, beginning with a row of knit sts, knit 12 rows of stockinette stitch. The 12th row should be a purl row.
Row 13: Knit across 12 sts. Turn the work and purl across 6 sts. Work 9 more rows on the center 6 sts. The last row will be knit.
With the RS facing you, pick up and knit 5 sts down the side of the foot. Knit the 6 sts to the end of the row. Turn the work.
Knit across the 6 sts at the beginning of the row, the 5 sts that you just picked up and knit and the 6 middle sts. Pick up and knit 5 sts on the remaining side of the foot. Knit across the last 6 sts. 28 sts should be on the needle.
Knit in garter stitch for 3 more rows.
The last row: Knit across 14 sts.
Turn the halves of the sock RS together. Weave the sts together and sew up the back of the stocking. Make a loop and hang it up. ©Catherine Bach Photo ©Sarah Bradberry and used with her permission. See Abbreviations and the Glossary for help.