---
---
Free Patterns
Babies/Kids
Adult Clothing
Other Patterns
---
Knitters Will Love...
---
Santa Face And Head Ornament Knitting Pattern
Designed by Barbara Breiter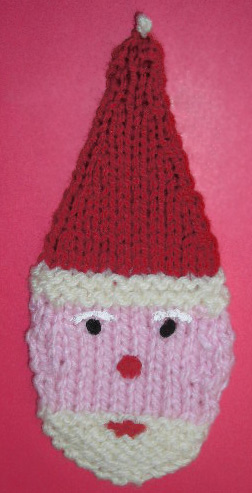 This pattern works up very quickly. It's about 8" tall. If knit in a lighter weight yarn, it will be smaller. Gauge:
Not vital Materials:
White, pink and red bulky weight yarn
Needles appropriate to yarn Instructions
With White, CO 3 sts. Knit 1 row. Work in garter stitch (knit every row), inc 1 st each end every other row 5 times - 13 sts. Knit one row.
With Pink, work in St st and dec one 1 st each end. Work even 3 rows. Inc 1 st each end next row. Work even 3 rows. Dec 1 st each end next row. Work 1 row even.
With White, knit 4 rows, inc 1 st each end on first row.
With Red, work 4 rows St st. Dec 1 st each end next and then every 4th row 4 times - 3 sts. K3tog and fasten off. Finishing
Weave in ends. Make a loop from one end on back for hanging.
For pom pom on end of hat, glue on small ball of cotton with fabric glue. Or tie several knots in white yarn, leaving knot on end; use other end to attach to hat.
Make two French Knots for eyes and one for nose. Use a running stitch to make mouth.
Or you may use fabric paint to paint on eyes, nose, and mouth. ©Barbara Breiter. This design may not be reproduced in any manner without the expressed written consent of the author. See Abbreviations and the Glossary for help.
---
Also see Knit A Bit, for patterns by Barbara Breiter
---