---
---
Free Patterns
Babies/Kids
Adult Clothing
Other Patterns
---
Knitters Will Love...
---
Santa Hat Ornament Knitting Pattern
Designed by Barbara Breiter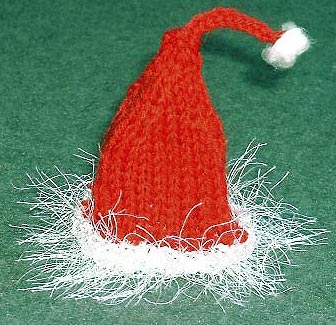 Use this quick to knit small Santa hat to decorate a larger wreath or package perhaps! Gauge:
Not vital Materials:
Red worsted weight yarn
White eyelash yarn
Size 8 US (5 mm) double pointed needles - set of 5
Small piece of cotton
Fabric glue Instructions
With white eyelash yarn, CO 24 sts. Divide evenly over 4 needles (6 sts on each needle). Be sure stitches aren't twisted and join. Work in garter stitch (knit one round, purl one round) for 6 rounds. Change to red yarn. Work in St st (knit every round) for 12 rounds. Decrease
Rnd 1: *k4, k2tog; rep from * around
Rnds 2, 4, 6: k
Rnd 3: *k3, k2tog; rep from * around
Rnd 5: *k2, k2tog; rep from * around
Rnd 7: *k1, k2tog; rep from * around Knitting all sts on to one needle, k2tog around (4 sts). K2 tog twice. Work I-Cord over 2 sts for desired length. K2tog. Fasten off. Glue cotton to end of I-cord. ©Barbara Breiter. This design may not be reproduced in any manner without the expressed written consent of the author. See Abbreviations and the Glossary for help.
---
Also see Knit A Bit, for patterns by Barbara Breiter
---