---
---
Free Patterns
Babies/Kids
Adult Clothing
Other Patterns
---
Knitters Will Love...
---
Christmas Tree Skirt Knitting Pattern
Designed by Ann McManus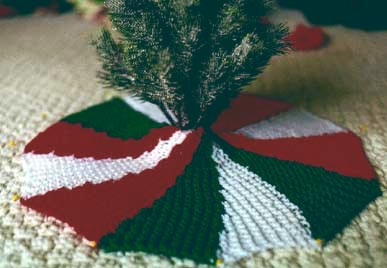 Gauge:
Not vital Materials:
Worsted weight yarn in red, white and green
Size 9 US (5.5 mm) needles Simple short rows create this Christmas tree skirt. Working back and forth on circulars, CO any number divisible by 3, i.e., 51, 66, 75, 108 sts. The more sts, the larger it will be. Row 1: k3, turn, k back to beginning.
Row 2: k6, turn, k back to the beginning.
Row 3: k9, turn, k back to the beginning. Cont in this manner until all stitches have been knit at least once. You will have a wedge shape. Start over at Row 1. Continue until you have 12 wedges, which should form a circle. Don't seam the opening for a Christmas tree skirt; wrap the skirt around the base, placing the opening at the back. Optional:
Pick up stitches along the edge and work a garter stitch edging. Variations:
Use red, white and green yarn for each wedge. Or use lots of different colors, after casting on about 108 stitches to make a cool afghan for the back of the sofa (seam up the opening). Work this in St st instead of garter st. It will curl a lot. You will want to make a very deep edging of some sort, such as knitted lace edging sewn on on or a picked up garter stitch edging to help it lie flat. See Abbreviations and the Glossary for help.