---
---
---
Free Patterns
Babies/Kids
Adult Clothing
Other Patterns
---
Knitters Will Love...
---
Eyelet Ribbed Socks For Girls Knitting Pattern
Diana Cintron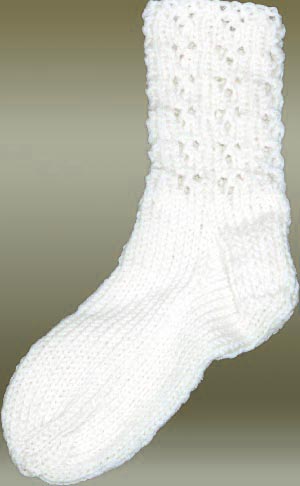 Knit by Marnie Munro

The pattern stitch used in this sock for little girls is a ribbed eyelet which helps the socks stay up. Gauge:
7 sts=1" in St st Materials:
Fingering weight sock yarn
Size 2 US (2.75 mm) double pointed needles - set of 4 Instructions
CO 36 sts.
Rows 1, 3, 5, and 6: P1, k5
Row 2: p1, k1, yo, sl 1-k2tog-psso, yo, k1
Row 4: P1, k2, yo, ssk, k1
Rep until cuff measures 2-3 inches or desired length.
Knit 2 rounds.
Heel Flap
Work heel over 18 sts.
Row 1: (Sl 1, k1) 9 times
Row 2: Sl 1, p rem sts.
Rep these two rows until 17 rows have been worked, ending with a RS row completed.
Turn Heel
Row 1: P9, p2tog, p1, turn.
Row 2: Sl 1, k1, k2tog, k1, turn.
Row 3: Sl 1, p2, p2tog, p1, turn.
Continue in this manner, rep last 2 rows and adding one more stitch each time until all stitches have been worked - 10 sts.
Gussets
With the needle in heel, pick up 10 sts along the right side of the heel. Knit the 18 instep stitches onto 1 needle. With the empty needle, pick up 10 stitches along the left side of the heel and knit 5 stitches off the heel needle.
You now have 15, 18, 15 stitches.
Begin the gusset decreases.
On the first needle, knit to the last three sts, k2tog, k1. On the second needle, work even. On the third needle, k1, ssk, work to end. Work the decreases every round until 9 stitches rem on needles 1 and 3 - 36 sts.
Work even until the foot is about 1 inch less than the total desired length.
Shape Toe
First needle: knit to last three sts, k2tog, k1
Second needle: k1, ssk, knit to last 3 sts, k2tog, k1
Third needle: k1, ssk, k to end. Rep until 8 sts remain (2, 4, 2). Cut yarn, draw through all stitches twice or seam using kitchener stitch. See Abbreviations and the Glossary for help.