---
---
Free Patterns
Babies/Kids
Adult Clothing
Other Patterns
---
Knitters Will Love...
---
Headphones Cord Cover Knitting Pattern
Designed by Jenn Wisbeck - Midnightsky Fibers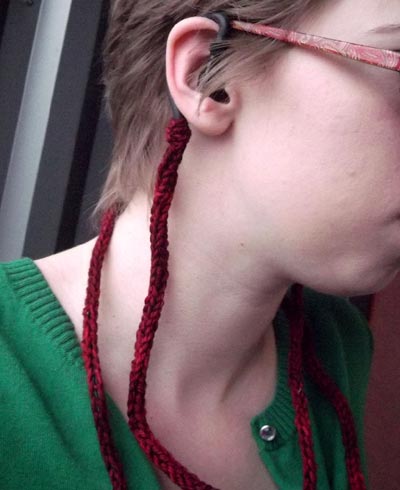 I-cord creates a quick and simple cover for the cord of a set of headphones. It is best to try this on an old pair of headphones with kinked or twisted cords- knitting i-cord around a pair of nice headphones could damage the cord as you move it back and forth while knitting, and I would hate to see that happen! An added bonus- the i-cord seems to help my cord not tangle as much now! This cover is worked in 3 sections - the bottom of the cord from the plug up to where the headphones split, widening for the split, then knitting each cord up to the headphones.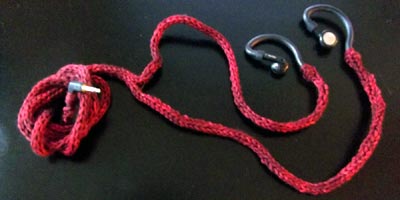 Size
As long as your cords, just under ½ inch thick. Materials
20 yards worsted weight yarn for a short cord (3 1/2-4 feet)
US size 5 double pointed needles
Tapestry needle Instructions
From the Plug Up
Cast on 3 stitches. Pulling yarn behind the cord of the headphones, work the 3 stitches.
Move to end of double pointed needle. Loop yarn behind headphone cord and work the 3 stitches. Repeat, untangling yarn when necessary (which will be often!). Make sure to carefully smooth out the i-cord as you go along so you don't end up with too much or too little and have it bunch up or be too stretched out. Work Increases
At 1/2 inch before the cord splits in to two, increase 1 st every other row until you have 6 stitches on your needle. Work 1 more row in i-cord. Put 3 stitches on holder (a locking stitch marker works perfectly for this) and put aside. Work Individual Cords
Work i-cord as before, being careful not to get to many tangles in the yarn or to tangle the yarn with the headphones. Work until flush with cord end (or be daring and increase stitches and work the ears of your headphones if they are ones you can cover and still hear through!). Work second side to match. Weave in ends, being careful to secure the i-cord to the headphones and carefully to the bottom plug- I did this by wrapping the yarn tightly around the thicker section of the headphone or cord part and then weaving in the ends as invisibly as possibly. ©Midnightsky Fibers and used with permission. Find more great knitting patterns at Midnightsky Fibers. See Abbreviations and the Glossary for help.