---
---
Free Patterns
Babies/Kids
Adult Clothing
Other Patterns
---
Knitters Will Love...
---
Make Your Own Knitting Needle Case
Bonnie Ries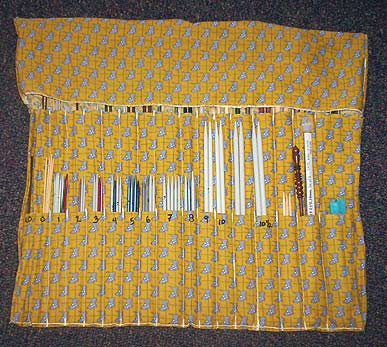 You don't have to be an expert seamstress to make this easy knitting needle case. For the main pouch, cut one piece of fabric 18½" x 32". Cut another 18½" x 10" for the double point pouch. Make certain the selvedge edge is on an 18½" side (using the selvedge edge makes it less possible for the needles to snag while being inserted or removed from the pouch).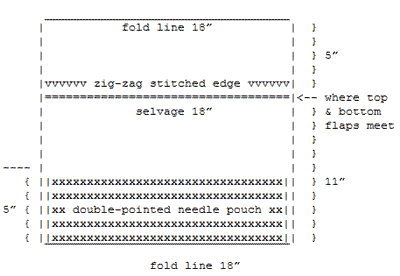 DP Pouch
Fold in half length wise, wrong side out, and stitch closed on the long edge only. Turn right side out and press flat. Main Pouch
Zig-zag stitch the 18½" edge opposite the selvage edge. Lay fabric right-side up with selvage edge facing you. Fold selvage edge up for 11"; pin in place. Fold zig-zag-stitched edge down 5"; pin in place. Baste side seams (those pinned). Assembly
Turn main pouch right side out and press flat; pin dp pouch to lower edge of main pouch with seamed side of dp pouch at bottom. Stitch dp pouch and main pouch together at bottom and sides; continue to stitch all the way up to the top of the main pouch for reinforced seams. Needle Shafts
Starting at the left edge, mark bottom edge and top of 11" main pouch for needle sizes as follow: size 0 - ½"
size 1 - ½"
size 2 - ¾"
size 3 - ¾"
size 4 - 1"
size 5 - 1"
size 6 - 1"
size 7 - 1¼"
size 8 - 1¼"
size 9 - 1½"
size 10 - 1¾"
size 10.5 - 1¾"
size 11 - 1¾"
size 13 - 1¾" This leaves an extra 1½" pouch for ruler, scissors, etc. on the end. Sew twice between the marks, and you're done! See Abbreviations and the Glossary for help.