---
---
Free Patterns
Babies/Kids
Adult Clothing
Other Patterns
---
Knitters Will Love...
---
Lace Zig Zag Scarf Knitting Pattern
Designed by Barbara Breiter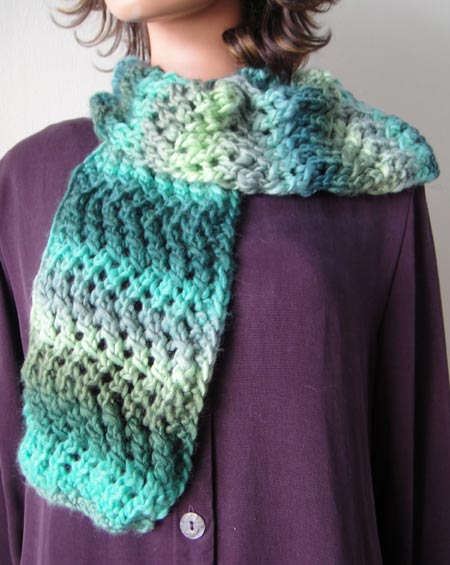 This easy scarf in a zig zag lace pattern knits up fast with chunky yarn. Size:
43½" x 6½"
2 balls will make a scarf about 29" long Gauge:
11.5 sts = 4" in Pattern Stitch before blocking Materials:
Size 11 US (8 mm) needles
3 balls Chunky Mochi by Crystal Palace Yarns
80% Merino Wool, 20% Nylon
49 yards/50 grams
Color 824 Leaves & Sprouts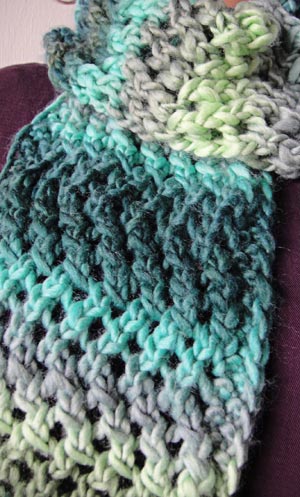 Instructions
Seed Stitch
Row 1: *k1, p1; rep from *
Row 2: sl 1, *k1, p1; rep from *, end k1
Rep Row 2. Pattern Stitch
Row 1 and all odd rows (WS): p
Rows 2, 4, and 6: *yo, k2tog; rep from *
Rows 8, 10, and 12: *sl1, k1, psso, yo; rep from *
Rep these 12 rows. CO 20 sts.
Work 3 rows Seed Stitch.
Work Pattern Stitch over center 14 sts, maintaining first and last 3 sts in seed st.
Work until desired length, ending with Row 6 or 12 completed and about 4 yards of yarn remaining.
Work 3 rows Seed Stitch.
BO loosely in pat.
Weave in ends.
Block. ©Barbara Breiter. This design may not be reproduced in any manner without the expressed written consent of the author. See Abbreviations and the Glossary for help.
---
Also see Knit A Bit, for patterns by Barbara Breiter
---