---
---
Free Patterns
Babies/Kids
Adult Clothing
Other Patterns
---
Knitters Will Love...
---
Ribbon Openwork Poncho Knitting Pattern
Designed by Barbara Breiter
The easy openwork pattern stitch makes this a great poncho pattern for beginning knitters. It knits up fast too! Gauge:
8 sts and 14 rows=4" in pattern stitch Size:
Finished size 80" around at the bottom and 27 ½" long.
One size fits most women. Materials:
Size 17 US (12 mm) needles
Size N-15 US (10 mm) crochet hook (optional)
8 balls Crystal Palace Yarns Deco-Ribbon
Color #7237 Blue Jeans
30% nylon/70% acrylic
50 grams/80 yards/73 meters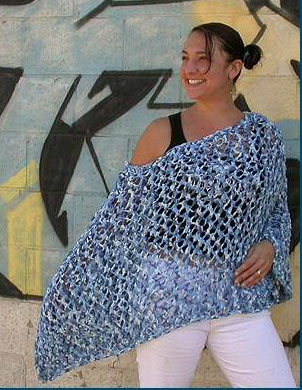 Instructions
Pattern Stitch:
Rows 1 & 3 (WS): Purl
Row 2: k2, *yo, k2tog; rep from * to last st, end k1
Row 4: k1, *SSK, yo; rep from * across, end k2 Note: Pattern Stitch includes one selvedge stitch on each end. Maintain the first and last st of each row in stockinette throughout the entire pattern. Make 2 CO 81 sts. Work in pat st 17 rows. Mark each side with safety pin (this will make it easier to see where to stop sewing during finishing).
Keeping to pat and maintaining one selvedge st at each end in St st, dec 1 st each end every other row 25 times until you have 31 sts as follows:
K1, SSK, k in pat st to last 3 sts, k2tog, k1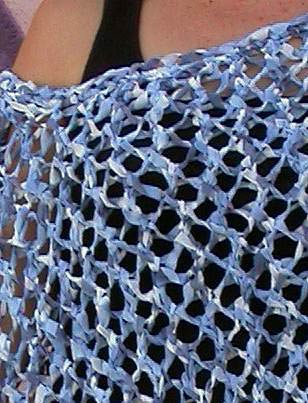 Shoulder/Neck Shaping
Next row (WS):
Keeping first and last st in St st, keeping to pat work first 6 sts.
Place rem sts on holder.
Work these 6 sts 4 more rows.
BO.
Place sts on holder back on needle. Beginning again on the WS, reattach yarn and BO 19 sts for the neck. Work rem 6 sts as for the other shoulder (total of 5 rows over these 6 sts).
BO. Finishing
Seam each side from neck to marker.
If desired, to narrow the neckline, work 1 or 2 rounds of sc around neck.
Weave in ends on WS. ©Barbara Breiter. This design may not be reproduced in any manner without the expressed written consent of the author. See Abbreviations and the Glossary for help.
---
Also see Knit A Bit, for patterns by Barbara Breiter
---