---
---
Free Patterns
Babies/Kids
Adult Clothing
Other Patterns
---
Knitters Will Love...
---
Knitting Stitch Patterns
Blanket Moss Stitch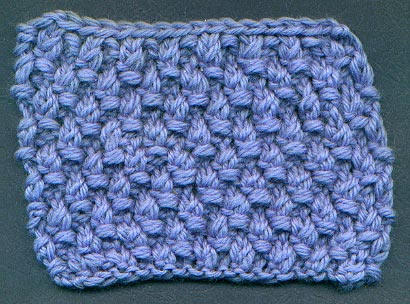 This stitch pattern is quite dense so it is useful for projects such as hot pads. It's also puffy in appearance and would also look nice in a scarf or afghan. You are increasing on Rows 1 and 3 and decreasing back to the original number of stitches on Rows 2 and 4; as as result, this stitch pattern needs to end with Rows 2 or 4 completed. Multiple of 2 + 1 Row 1 (RS): k into front and back of each st
Row 2: k2tog, *p2tog, k2tog; rep from *
Row 3: Rep Row 1
Row 4: p2tog, *k2tog, p2tog; rep from * Rep Rows 1-4. See Abbreviations and the Glossary for help.