---
---
Free Patterns
Babies/Kids
Adult Clothing
Other Patterns
---
Knitters Will Love...
---
Knitting Stitch Patterns
Cable Edging II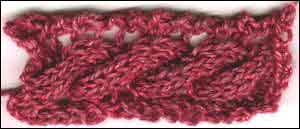 You may use this pattern stitch as an edging or as a centered panel. CO 11 sts; it is worked lengthwise. Row 1: Sl1, k2tog, yo, k6, yo, k2tog
Row 2 and all even rows: Sl1, p across to last st, k1.
Row 3: Repeat Row 1
Row 5: Sl1, k2tog, yo, slip next 3 sts onto cable needle and hold in front of work, k next 3 sts, k3 sts from cable needle, yo, k2tog
Row 6: Repeat Row 2 Repeat Rows 1-6. Contributed by Oma Englund See Abbreviations and the Glossary for help.