---
---
Free Patterns
Babies/Kids
Adult Clothing
Other Patterns
---
Knitters Will Love...
---
Knitting Stitch Patterns
Woven Transverse Herringbone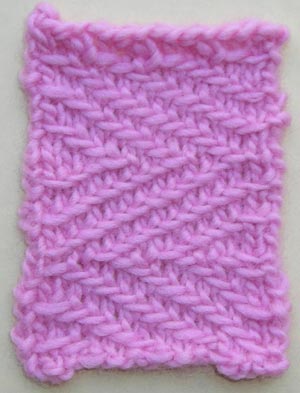 This stitch is dense so it's a good choice for purses, hot pads, and even mittens. Note that the stitches are always slipped with the yarn on the right side. Multiple of 4 + 2 Row 1 (RS): k2, *sl2 wyif, k2; rep from *
Row 2: p1, *sl2 wyib, p2; rep from *, end p1
Row 3: sl2 wyif, *k2, sl2 wyif; rep from *
Row 4: p3, *sl2 wyib, p2; rep from *, end last rep p1 instead of p2
Rows 5-12: Rep Rows 1-4 twice
Row 13: Rep Row 3
Row 14: Rep Row 2
Row 15: Rep Row 1
Row 16: Rep Row 4
Rows 17-24: Rep Rows 13-16 twice Free Pattern Featuring This Stitch See Abbreviations and the Glossary for help.