---
---
Free Patterns
Babies/Kids
Adult Clothing
Other Patterns
---
Knitters Will Love...
---
Barbie Doll Cardigan Sweater Knitting Pattern
Marie Greene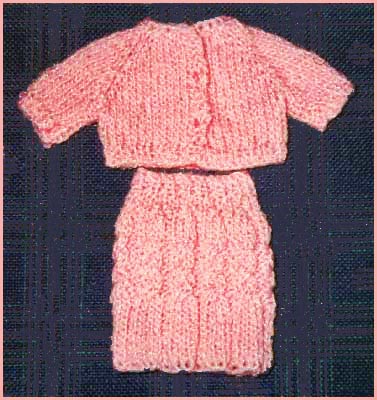 The matching skirt is also available. Materials:
Fingering weight yarn
Size 2 US (2.75 mm) double pointed needles
4 tiny buttons
Stitch markers Instructions
Yoke CO 23 stitches (neck edge).
Knit 2 rows.
Next Row (Row 3): *Inc 1 in first st by knitting in front and back of st, K1; rep from * to last 4 sts, inc 1, K1, YO, K2tog (buttonhole).
Row 4 and all even rows: K3, P to last 3 sts, K3
Row 5: K6, *(Inc 1, K1) 4 times, K6; rep from * one time.
Row 7: K7, *Inc 1, pm, K1, Inc 1, K3, Inc 1, pm, K1, Inc 1* K9, work from * to *, K8
Row 9: K, increasing one st before and after each marker. Cont to rep Rows 4 and 9 alternately, making a buttonhole every few rows on same side as the first one (made on Row 3) for 1½". End with Row 4. Divide
K 30, turn, remove markers, P 15 for sleeve.
Work only on 15 sleeve sts in St st for 3 rows, dec 1 st each end on 3rd row.
Work 2 rows of k1, p1 ribbing. BO.
Cut yarn, leave tail for sewing.
Join yarn in back and K 30 sts, turn and work 15 sts for sleeve same as above. Body
Join yarn on right front, K 15 sts, turn, P across the sts on needle, adding both sides to back and working across all sts.
Cont in St st for 8 rows.
Work k1, p1 ribbing 3 rows.
BO in ribbing. Finishing
Sew underarm seams.
Weave in ends.
Sew on buttons. This pattern is free for any personal, gift, charity, or profit use, as long as I am given credit as the author of the pattern. Have fun! See Abbreviations and the Glossary for help.