---
---
Free Patterns
Babies/Kids
Adult Clothing
Other Patterns
---
Knitters Will Love...
---
Barbie Doll Cable Skirt Knitting Pattern
Marie Greene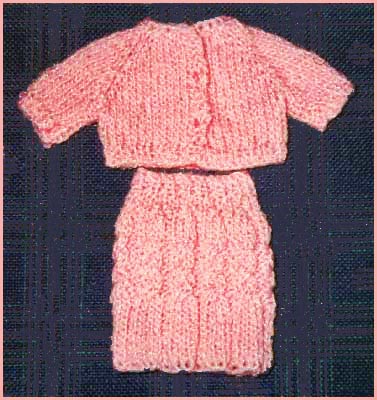 The matching cardigan is also available. Materials:
Fingering weight yarn
Size 3 US (3.25 mm) needles
Cable needle Instructions
CO 64 sts.
Row 1: *P2, K4, P2; rep from *
Row 2: *K2, P4, K2; rep from *
Rep these 2 rows for 1½".
Rep Row 1 and 2 again.
Row 3 (RS): *P2, Slip 2 to cable needle and hold in back, K2, K2 from cable needle, P2; rep from *
Row 4: Rep Row 2.
Rep Rows 1-4 twice more.
Rep Rows 1-2 twice more.
Next Row (RS): *P2, K2tog, K2, P2; rep from * - 56 sts
Next Row: *P2, K2tog, K1, P2tog; rep from * - 40 sts
Next Row: *P2tog, K2tog, P1; rep from * - 24 sts
Work 4 rows of k1, p1 ribbing. BO in ribbing.
Leave tail to sew back seam. This pattern is free for any personal, gift, charity, or profit use, as long as I am given credit as the author of the pattern. Have fun! See Abbreviations and the Glossary for help.