---
---
Free Patterns
Babies/Kids
Adult Clothing
Other Patterns
---
Knitters Will Love...
---
What's New At Knitting On The Net
Knitting patterns and knitting information - 2009.

What's New - Latest Patterns

What's New - 2010

What's New - 2009

What's New - 2008

What's New - 2007

What's New - 2006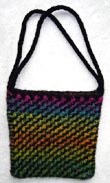 December 30, 2009
Diagonal Ripple Felted Purse
Easy two color slip stitch pattern with fantastic results!


December 8, 2009
Seaman's Scarf
Ribbing around the neck hugs the scarf close, keeping the cold wind out.


November 29, 2009
Color Block Baby Blanket
Knit in three strips and then sewn together. Also makes a wonderful doll blanket!


November 18, 2009
Christmas Ball Ornament
This beautiful Fair Isle Christmas ornament is knit in the round on double points.


November 12, 2009
Baby Ugg Boots
Adorable baby booties look like Ugg Boots. Super easy to knit.


November 4, 2009
Retro Throw
Shown in three colorways and two yarns; endless possibilities. Knit in blocks so it's portable!


October 21, 2009
Pumpkin Cloth
Easy knit and purl pattern.


September 29, 2009
Pumpkin Pin
Cute pattern for Halloween and fast to knit!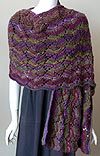 September 23, 2009
Shell Lace Shawl
Rectangle design means no shaping so the simple lace pattern is easy to work.
September 15, 2009
Word Scramble Puzzles
Unscramble the knitting related words and then use the letters to solve the final knitting related pun or message for these 16 puzzles.

August 26, 2009
End Of The Rainbow Dish Cloth
Easy pattern of rotating garter stitch panels.


August 12, 2009
Cloverleaf Eyelet Pullover
Soft and beautiful self striping yarn makes this a stand out. Three sizes for women.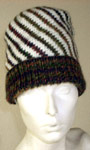 July 30, 2009
Striped Spiral Hat
Knit on two needles, you can knit this hat in any stripe combination you wish. Endless possibilities!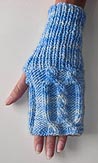 June 23, 2009
Cable Fingerless Mittens
Knit on two needles, these are easy and fun. A matching hat and scarf pattern are also available.


June 14, 2009
Rose Stitch Pattern
Very simple and easy to remember repeats. Check out over 135 stitch patterns in the Knitting Stitch Patterns Library.


June 14, 2009
Webkinz Cape
Quick and simple; fits most Webkinz dog and cat stuffed animals.


May 28, 2009
Barbie Doll Shrug
Super easy and fast to knit. Use left over sock yarn!


May 18, 2009
Evening Pouch Drawstring Bag
Knit in the round, metallic yarn makes it sparkly! Small enough to hold your knitting gadgets as well.


May 4, 2009
Squirrel Cloth
Easy to knit cloth pattern or use the squirrel motif on any knitting project!


April 21, 2009
Star Rib Mesh Scarf
This is a beautiful, yet simple, lace pattern. It's knit in cashmere with larger than normal needles to stretch the yarn farther.


April 5, 2009
Squares In Squares Stitch Pattern
Reversible stitch pattern that lies flat. Check out over 135 stitch patterns in the Knitting Stitch Patterns Library.

March 2, 2009
Mary Jane Baby Booties
Features pink socks with a lace trim and Mary Jane shoes; knit on two needles.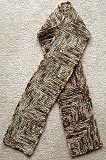 February 23, 2009
Miter Squares Scarf
Learn how to knit miters with this scarf, which lends itself beautifully to color changing yarns.


February 14, 2009
Garter Stitch Hat With Brim
Easy pattern knit on two needles.


January 26, 2009
Hugs And Kisses Cable Wash Cloth
Simple pattern and a good introduction to cables.


January 20, 2009
Two Way Striped Baby Blanket
Symmetrical stripes run in two directions.


January 11, 2009
Ruffled Two Handle Felted Bag
Easy ruffle makes this bag stand out.

January 1, 2009
Bolero And Matching Hat
Adorable pattern in three sizes for girls.


---
Also see Knit A Bit, for patterns by Barbara Breiter
---