---
---
Free Patterns
Babies/Kids
Adult Clothing
Other Patterns
---
Knitters Will Love...
---
What's New At Knitting On The Net
Knitting patterns and knitting information - 2008.

What's New - Latest Patterns

What's New - 2010

What's New - 2009

What's New - 2008

What's New - 2007

What's New - 2006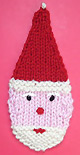 December 15, 2008
Santa Ornament
Quick and simple!


December 8, 2008
Snowman Ornament
Knits up fast. Also makes a great pin!

November 30, 2008
Candy Cane Ornament
Knit with simple I-cord, twist them around to knit this easy Christmas candy cane ornament.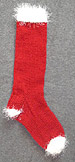 November 20, 2008
Christmas Stocking
Even if you've never knit a sock before, this is an easy pattern to try. Embellish it with the suggestions offered and make it your own!


November 13, 2008
Santa Chart
Small chart, great for children's sweaters, blankets, or scarves.


October 26, 2008
Lace Check Cloth
Features an easy stitch pattern resulting in a lace check design.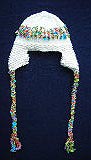 October 8, 2008
Braided Ear Flap Hat
Fast and easy to knit; fits kids about 6 to 14.


September 22, 2008
Seafoam Lace And Eyelets Scarf
This is a simple to knit pattern, yet beautiful and elegant.


August 31, 2008
Lady Bug
Also called a Lady Bird, this pattern is very simple and cute as a bug!


August 5, 2008
Condo Stitch Scarf
Simply knit every row, alternating between large and small knitting needles!


June 26, 2008
Lace Flower Doily
Features a large center flower surrounded by eyelets. Knit it in ivory or white for a more traditional look.


June 10, 2008
Butterfly Cloth
Reversible butterfly surrounded by seed stitch. Knit it from written instructions or a chart.


May 28, 2008
Ruffled Jacket
Knit with light weight yarn and trimmed with ruffles all around. Four sizes.


May 13, 2008
Moon And Stars Baby Blanket
Repeating motifs alternating between stockinette and reverse stockinette highlight this beautiful blanket.


May 7, 2008
Sarong
Great cover up for the beach or pool; versatile sarong can be worn in many different ways. Five sizes.


April 16, 2008
Raglan Sleeve Boat Neck Sweater
Interesting strap details highlight this pattern featuring an eyelet stitch pattern. Four sizes.


April 9, 2008
Mosaic Zig Zag Pullover
The use of one variegated yarn in this sweater pattern turns an easy mosaic stitch into a spectacular look!


April 1, 2008
Baby Sweater With Collar
Easy slip stitch pattern on the cuff, bottom and collar in 3 sizes.


March 26, 2008
Roll Brim Spiral Hat
Fits kids about 8-12 and easily resized for adults.


March 14, 2008
Bias Knit Felted Bag
This small bag is knit on the bias or diagonally and features self striping yarn.


March 10, 2008
Snake Charmed Scarf
Knit in garter stitch, reversible, and looks like a snake!


February 26, 2008
Clog Socks
Features an easy Fern Stitch pattern along the back of the sock and heel.

February 19, 2008
Baby Slippers
Quick to knit, seamless, and knit mainly in the round.


February 13, 2008
Garter Stitch Diamonds Scarf
Easy reversible garter stitch scarf features diamonds in two different sizes.


February 13, 2008
Mitten Formula
This mitten formula allows you to knit any size mitten at any gauge.


February 7, 2008
Hexagon Bag
Trimmed in seed stitch with simple shaping.


February 6, 2008
Feather & Fan Baby Bib
A classic pattern in fun colors.


January 29, 2008
Garter Stitch Zig Zag Scarf
Easy zig zag pattern is reversible.


January 29, 2008
Eyelet V's Cloth
Eyelet V's are arranged around the border of this cloth.


January 22, 2008
Draw String Trinket Bag
A small bag to hold special trinkets, knit in the round.


January 22, 2008
Felted Hat With Wide Brim
A wide brim combined with a novelty yarn highlights this felted hat.


January 16, 2008
Cable Hat
Two needle hat with an intricate cable that runs horizontally. There is also a matching scarf pattern available.


January 8, 2008
Bird Of A Feather Socks
This is a beautiful but easy slip stitch pattern.


---
Also see Knit A Bit, for patterns by Barbara Breiter
---